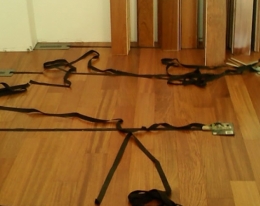 Dande West has been formally schooled in wood floor installations by the National Wood Floor Association (NWFA).
This schooling separates Dande West from all of its competitors in the Inland Empire area of metro Los Angeles.
Whatever floor is requested, Dande West performs the installation using the most appropriate method.
Types:
Glue-Down
This method works best over concrete. (For most manufacturers, a Calcium Chloride moisture vapor test MUST be performed according the ASTM 1869 and documented for their warranties to be effective) Carpet and Big Box stores will glue down a wood floor over plywood, but that is most likely because their installers do not possess the necessary tools to nail a wood floor to a plywood sub floor. Over a plywood or wooden sub floor, gluing is best avoided. Gluing a wood floor is the most expensive method, and not completely necessary for a wood floor installation over a concrete sub floor. Consider the Floating method, the advantages are that the cost of the flooring project will be reduced, and the likely hood of the glue getting everywhere is totally avoided.
Nail-Down
Fastening technology has advanced quite a bit with the creation of "cleats." Traditional nails are fine, but cleats hold much better. All manufacturers recommend cleats over traditional nails. Nailing down a wood floor is favored nationwide for its tight, squeak-free, "green" approach to wood floor installations.
Float
Favored by High-end condos and apartments, or where gluing and/or nailing is not chosen. This type of flooring installation method is also compatible to meet and/or surpass IIC (Impact Insulation Class) architectural ratings for sound transmission. Floating floors do not adhere to the sub-floor. Instead, the floor is fit together with their tongue and groove connection via adhesive (in the groove) or a tongue and groove locking design.
Considered very fashionable in Europe, floating floors are an important element to home design. The Pergo company capitalized on this type of installation method and "Americanized" it to quite success via their laminate floors.
Some of the most beautiful wood floors in the world are floating floors.