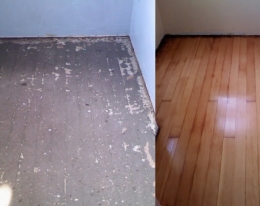 Dande West has been formally schooled in wood floor refinishing by the National Wood Floor Association (NWFA).
This schooling separates Dande West from all of its competitors in the Inland Empire area of metro Los Angeles.
We have 18 years of refinish experience as a company - all of our machines are dustless, and in perfect working condition. Equipment of this nature is far beyond the capabilities of the DIY'er, and not available for rent from a Big Box store or rental yard. Machines of this caliber provide the best possible result, and are the signature of a serious monetary commitment by the contractor. This distinction separates a real wood floor contractor from a less than equal counterpart. Call us today to discuss your needs.
A less than satisfactory refinish can ruin your whole week. Sure .. hire the cheapest worker or try it for yourself. In the attempt to save expenses, a shopper will regret their decisions later. Let's not go there! We are happy to help if you find yourself in uncharted territory.
The main causes of a bad experience are associated with the dust the process makes. The dustless sanding equipment owned by Dande West makes a huge difference in the amount of dust created by the sanding process. To be accurate, sanding equipment manufacturers stress "less dust" rather than guarantee "dustless" results.
Before going much further, sanding and refinishing is not an element of maintenance. The process fixes damage from flood, termites, interior construction and from being under carpet, with carpet being the most effective agent in harming wood flooring.
Sanding and refinishing renews the life of wood flooring. The oldest floor sanded and refinished by Dande West was a home made in 1840 in Upland, Ca. Originally constructed to be a bear hunting cabin for sportsman, the proud owner produced a tin-type photo of hunters posing with the home in the background - guns and all!! The floors were sanded and refinished to perfection.