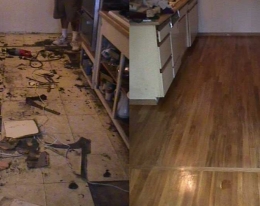 Call Dande West before you commit to replacing the floor in the event of a catastrophe.
One of the fabulous advantages Wood flooring has over carpet, vinyl and laminates is its ability to be repaired. The whole floor does not have to be scrapped, but merely locally addressed.  In almost all situations, the floor can be repaired to pre-disaster condition. Repairs are meant to be 100% invisible.
Be advised that 100% of carpet stores and/or Big box stores will advise a total replacement as a remedy for their own sales forecasts in the event of an accident. Dande West has repaired floors that have been under water from floods, attacked by termites, been overwhelmed by fire or vandalism, or even from interior construction work that involved moving walls to different places. See our portfolio for examples.
Other reasons for repair can be created by a slab leak from embedded water pipes (very common), or heavy moisture vapor emissions from the concrete slab. All these problems can be remedied by a wood floor professional who emphasizes a commitment to the skill of the trade instead of a commitment to "sales at any cost" approach to business.
All of the problems below are examples of likely candidates for a successful repair.
Urine spots
Termite boards
Fire and/or Water damage
Recent home improvements - like walls moved
Structural damage
Problems with concrete slabs